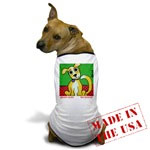 T-shirts, mugs, mouse pads, doggie t-shirts, and more are available from gbryant studio's online shop!

Images of gbryant's whimsical animals, coffee mugs, and sayings will look great on your shirt, your puppy's shirt, coaster, and many other places.

To order, follow these easy steps:

Go to the online shop to see the items available at www.cafepress.com/gbryantstudio.
Return to gbryantstudio.com site.

Pick an image from any of the categories listed at the top of the page in gbryant's gallery of work. It can be a painting, print, or folk art image--maybe even the one she painted of your pet!
Go to the contact link and fill in the form, describing which image you wish to use or you email gbryant directly at gbryant@gbryantstudio.com.

Once your item uploaded into the online, you will be notified by gbryant. You can view it, place your order, and make your payment through the secure online shop. Your order will be sent out to your within 2-3 days.

Here are samples of a few of the items you can order from the gbryant studio online shop. Remember, you can customize these with your gbryant painting!